Go Fish Inshore Fishing Charters North Myrtle Beach
Reservations 843-333-3920
North Myrtle Beach Fishing Charters
Myrtle Beach Fishing Charters
Welcome!! I am Captain Chris Gill and I invite you to join me for a few hours of adventure and excitement aboard the "Go Fish" while Fishing North Myrtle Beach, Little River, Sunset Beach and The Little River Inlet; for Redfish, Black Drum, Speckled Sea Trout, Flounder, Blue Fish and other inshore species in the North Myrtle Beach and Little River areas. I offer private trips customized to fit your individual needs.
North Myrtle Beach Fishing Charter RATES: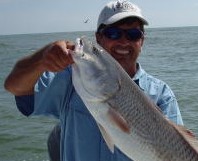 I offer the best rates for private Myrtle Beach Fishing Charters: Half Day 1-3 people—$450 for 4 Hours.
2 more anglers may be added for an additional $50.00 each. All Bait, Tackle and Fishing Licenses are provided and included.
Please see my "Rates" page for additional information.
Call me today at: (843)-333-3920 to reserve your next fishing adventure. You may also email me at:
CaptChris@FishNorthMyrtleBeach.com
Our Boat "Go Fish"
The "Go Fish" is a 25′ Carolina Skiff 258 DLV center console powered by a 200 H.P. Yamaha Four Stroke outboard motor. She has a 8′ beam with a 6″ draft, and can easily accommodate 5 anglers.
U.S. Coast Guard Licensed; and Insured.
Go Fish Inshore Charters is your primary source for private Myrtle Beach Fishing Charters and North Myrtle Beach Fishing Charters.
I cater to anglers of all ages and skill levels and will customize your trips to fit your needs; whether you are an experienced angler with many years of accurately casting your bait into the exact spot where you want it to be, or the novice angler who has never used a spinning reel before. I am there to help each person that needs instruction on how to cast their line to where the fish may be and how to fight and reel in their fish with the light tackle that they will be using.
Myrtle Beach Fishing Charter FAQ
Children:
I enjoy taking families with kids fishing in North Myrtle Beach. My wife and I have been blessed with two great kids. As a parent, I am very familiar with what it takes to make sure that children have an enjoyable time. The youngest child that I have taken on a fishing charter was 4 years old and I would suggest that as a minimum age limit. In my experience, children 7 years and up are the ones who truly appreciate spending 4 hours on a boat.
Private Fishing Charters:
These are private North Myrtle Beach fishing charters by reservation only. I will be the only other person on the boat in addition to the person who made the reservation and the people that they bring with them. I do not put parties together; so if you are a single angler looking to share the cost of the trip, you will need to encourage your friends to accompany you.
Additional Questions:
Please do not hesitate to contact me if you have any additional questions about my inshore North Myrtle Beach fishing charters. (843)-333-3920, CaptChris@FishNorthMyrtleBeach.com
Planning your North Myrtle Beach Fishing Charter:
If you are planning to go fishing in Myrtle Beach or fishing in North Myrtle Beach and would like to be on a fun private fishing charter, then you are in the right place. If you like to fish from a boat but don't like to get seasick you are also in the right place. We fish primarily in the calm waters of the Intracoastal Waterway, Salt Marshes and Little River Inlet. We do sometimes fish the near-shore reefs three miles out, but only at the client's request and only if the sea swells are two feet or less.
Where we will go:
Our typical North Myrtle Beach fishing charters start at Cherry Grove Marina in North Myrtle Beach; we head North along the Intracoastal Waterway through North Myrtle Beach and Little River, maybe stopping along the way to try some fishing holes until we reach near to the SC/NC border; then depending on where we have been having the most success on previous trips, we may go fishing further into North Carolina along the Intracoastal Waterway or we may stay in South Carolina and fish the salt marshes between the waterway and the Little River Inlet; in addition to fishing the inlet itself. Most of my fishing charters will encompass both South and North Carolina; but not to worry we have blanket licenses that cover everyone fishing from the Go Fish in both states.
What to wear?
Wear whatever clothing you are most comfortable wearing outdoors at the time of your scheduled trip. The best footwear for boating would be sneakers or some other type of comfortable casual shoes with non-marking soles. I suggest going online to check the weather a couple of days before your scheduled trip as a guide to what clothing you may be most comfortable wearing during my North Myrtle Beach fishing charter, especially during Spring and Fall when we have widely varying weather conditions on a daily basis. Here is a link to current weather conditions in North Myrtle Beach:
North Myrtle Beach Weather Forecast
Bait and Tackle:
Most of the year we use spinning tackle with 40 pound test braided line and live bait (shrimp, mullet minnows, menhaden) that I will catch in my cast net. In the cooler months when there are not any schools of bait that I can throw my net on, I will buy mud-minnows from one of the local bait shops. Sometimes we will also use fresh cut shrimp, which is a favorite meal of Black Drum. We will use lures sometimes in the winter while fishing for Speckled Trout; usually Berkley Gulp Shrimp. The 40 pound test braided line is as thin as 10 pound monofilament and better able to handle the big Bull Redfish that come in from out of the deep ocean to spawn at the Little River Inlet from September until November. It can also hold up better against the many oyster shells that are prevalent in most of the areas that we will fish.
Suncreen:
Please do not bring spray or aerosol type sunscreen for use on the boat as it goes everywhere and gets on everything including the deck, resulting in slippery and unsafe areas to walk on. You may spray it on in the parking lot of the marina before we board the boat, but please only bring rub on type sunscreen for use on the boat.
Questions? Ask Capt. Chris With The form Below
Our …Customer Testimonials 
Had a great time fishing with Captain Chris.